Gates-MacGinitie Reading Tests®

Group-Administered
Gates-MacGinitie Reading Tests®
Grades K–12, Adult

Reading survey test
Get the Story Behind Every Student's Reading Achievement
Life in the classroom would be a lot easier if every student learned at the same pace. But that's rarely the case, especially when it comes to reading. Educators have come to rely on Gates-MacGinitie Reading Tests® (GMRT®), Fourth Edition, to get the real story behind every student's reading achievement.
GMRT features research-based tests that allow teachers and schools to identify the general level of reading achievement of individual students throughout their entire school careers. The objective information obtained from GMRT, complemented by teachers' evaluations and other sources of information, can provide a basis for the following:
Organizing students into appropriate instructional groups
Selecting students for individual diagnosis and special instruction
Identifying students who are ready for more advanced instruction
Placing new students into proper instructional programs
Evaluating the effectiveness of instructional programs
Reporting student progress to parents, teachers, and the community
Online testing for GMRT is coming soon. Click here for additional information.
2017 Normative Update:
The GMRT 2017 normative update provides the most up-to-date comparisons of reading achievement. It reflects changes in student performance, providing educators with comparisons of reading performance that more accurately reflect reading achievement today.
Up-to-date normative information is critical in times of change and education reform, as normative comparisons inform many education-related decisions. Using GMRT with its updated 2017 norms allows you to assess student reading performance, make comparisons, and create effective instructional plans with greater confidence and accuracy.
Scores Reported: National Percentile Rank (NPR), Extended Scale Score (ESS), National Stanine (NS), Grade Equivalent (GE), Normal Curve Equivalent (NCE), Raw Score, Lexile®
Administration Format by Levels:
Levels PR through 3 Machine- and hand-scorable test booklets are available.
Students mark their answer choices directly in a test booklet.
Machine-scored test booklets are sent to Riverside Scoring Service for scanning and scoring.
Hand-scored test booklets are scored locally using a Booklet Scoring Key.
Levels 4 through AR Machine-scorable and self-scorable answer sheets are available. Reusable test booklets also can be hand scored.
Machine-scored answer sheets are sent to Riverside Scoring Service for scanning and scoring. They also can be hand scored locally with an acetate scoring template
Self-scorable answer sheets are available for fast and accurate local hand scoring.
Reusable test booklets may be hand scored locally using a Booklet Scoring Key in situations where students are best accommodated by being allowed to mark answers directly in the test booklet.
This format also can be useful for diagnosing students' comprehension problems. When test booklets or answer sheets are scored by hand, a full range of hand-scoring aids is available:
Class Summary Record forms for recording individual scores and for calculating and recording group averages
Booklet Scoring Keys that provide reduced-size booklet pages for fast and accurate scoring
Acetate scoring templates that overlay the machine-scorable answer sheets
Decoding Skills Analysis forms for Levels 1 and 2 Word Decoding only
When test booklets or answer sheets are scored by Riverside Scoring Service, a variety of score reports may be ordered.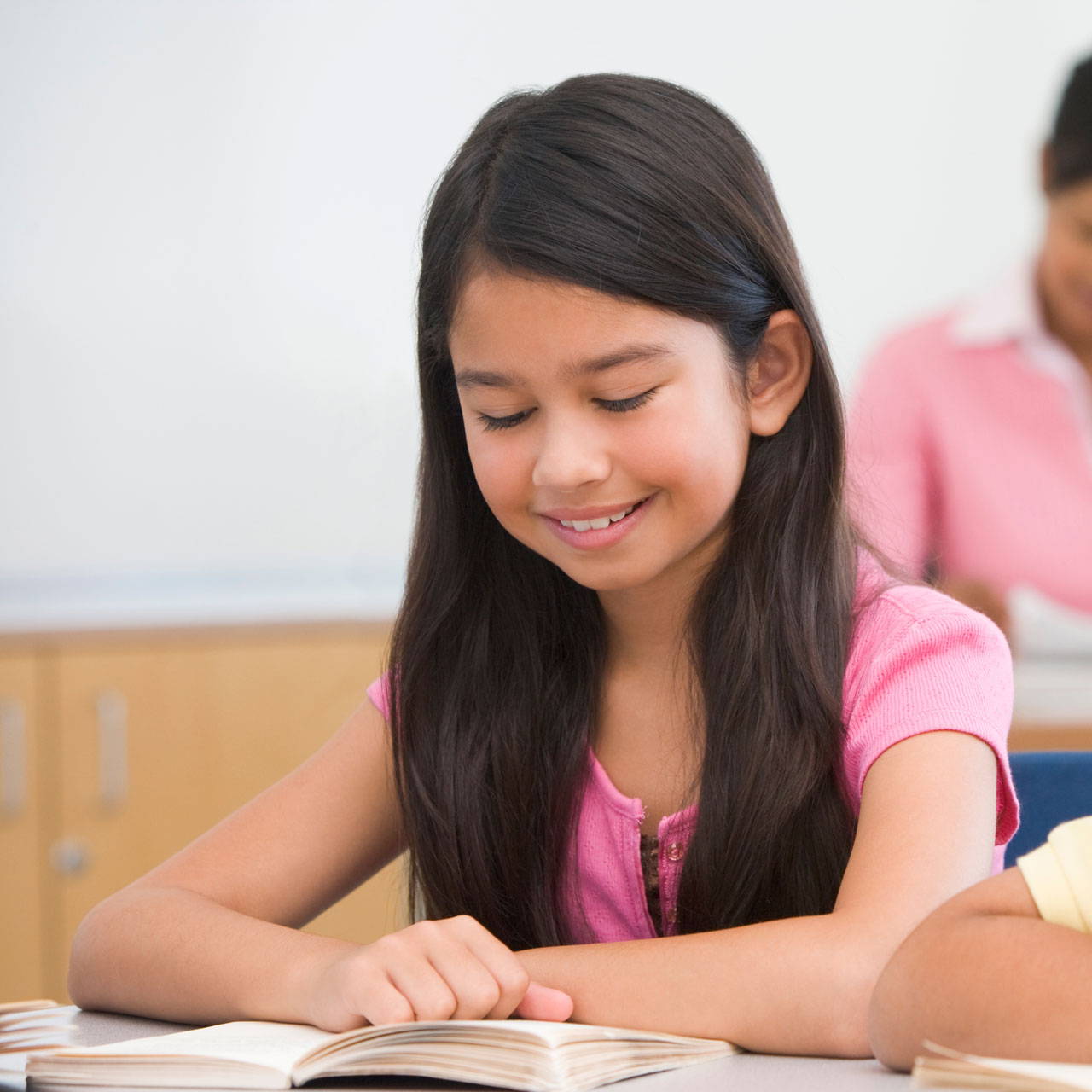 Scoring & Reporting
DataPlus GMRT web reporting is now available in DataManager—the same online reporting tool used to manage other assessment programs, such as the Iowa Assessments™, Logramos®, and CogAT®. DataManager offers powerful and flexible online reporting that allows you to view, disaggregate, and analyze your assessment data.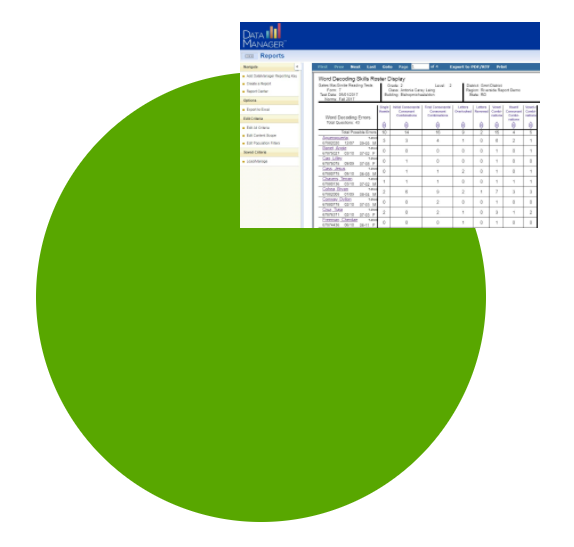 DataManager Reports:
Users can quickly create ranked class, building, and system lists of student scores.
Users can save reports as PDF files or export data to Microsoft® Excel® to create customized reports for their schools or districts.
Data is accessed through a secure Internet connection.
Teachers can access data for their classes, building administrators can access data for their buildings, and system administrators can explore system-wide data.

Teachers and administrators can readily disaggregate test data from specific populations

Scoring Services For information on scoring services GMRT, please visit our Scoring Services page.
---
Sample Items
GMRT items undergo a rigorous developmental process to ensure a quality test that is evidence based and free of bias. The items are presented in a format that is simple, clear, and familiar. This allows students to follow their natural reading behavior during the test.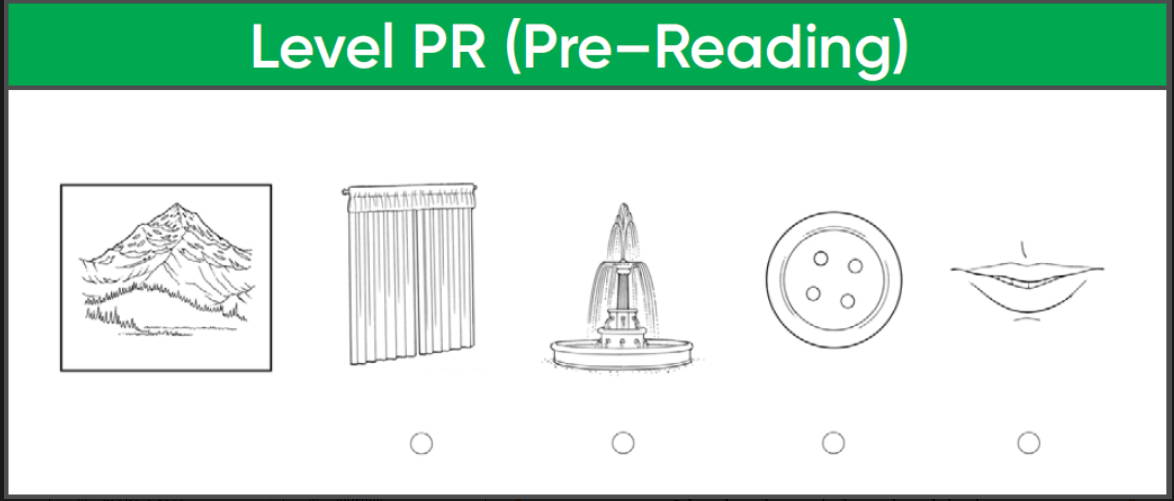 Phonological Awareness
In this Pre-Reading (PR) example, the teacher points to the picture of the mountain and reads the possible answers: curtain, fountain, button, mouth. Students demonstrate their phonological awareness by identifying the word that rhymes with mountain.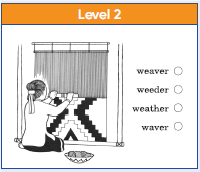 Decoding
Levels 1 and 2 include questions that focus on word decoding skills. This example features the word weaver. The wrong choices are designed to represent common decoding errors.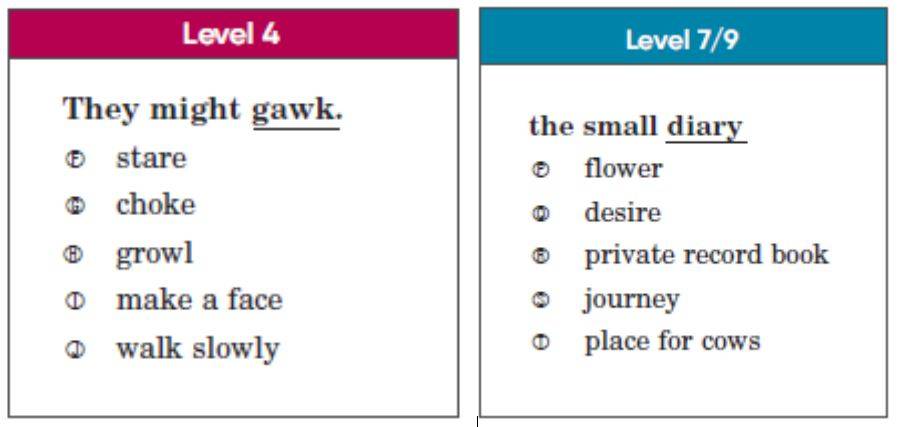 Vocabulary
Vocabulary is tested in Levels 3–10/12 and Adult Reading (AR). Selected words are suited to each grade level.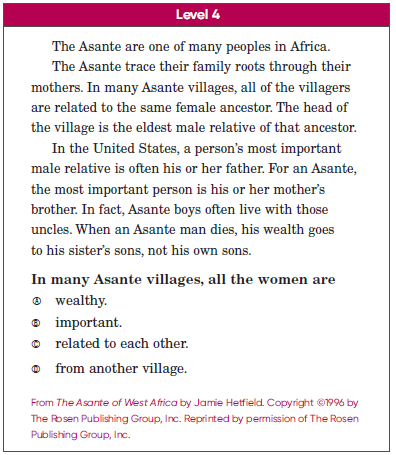 Comprehension
Mature reading comprehension passages are taken from previously published books and periodicals in a variety of writing styles.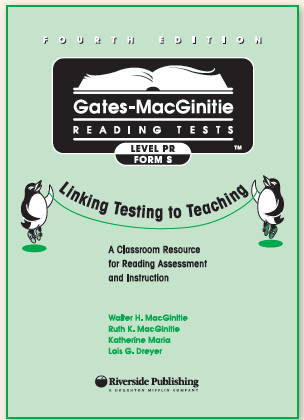 Linking Testing to Teaching
GMRT offers an optional manual, Linking Testing to Teaching: A Classroom Resource for Reading Assessment and Instruction, which provides additional insights for teachers:
Author guidance for interpreting student test results
Straightforward techniques to help pinpoint students' reading difficulties
Proven instructional strategies for developing reading skills
This classroom resource for reading assessment and instruction, developed and written by the GMRT authors, is designed to provide guidance in planning instruction, intervention, and enrichment based on students' test results. Linking Testing to Teaching guides teachers through a series of thought-provoking questions to identify reading skills that need attention and suggests proven instructional techniques for developing these skills. The studies and tips for integrating instruction into the classroom are helpful for both beginning and experienced teachers.
Detailed easy-to-follow examples of teacher-student interactions and instructional techniques provide insight into the following:
Instructing students in word identification
Understanding how students learn word meanings
Teaching word meanings
Teaching comprehension strategies
Developing students' metacognition, or awareness of their thinking
Creating instructional programs for teaching comprehension strategies
Working with students whose language or culture differs from that assumed by classroom materials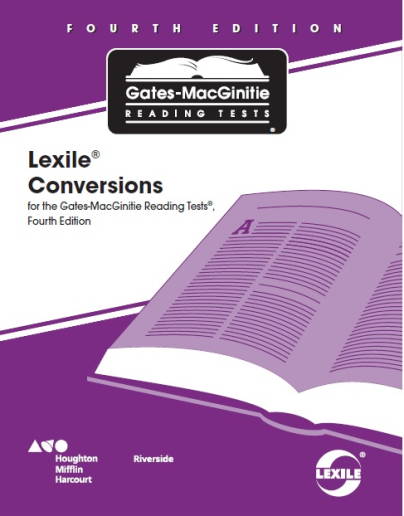 Lexile Conversions
Students' scores can be linked to the Lexile Framework® for Reading. Lexile measures are available for Levels 1 through 10/12 and can be used to connect students with ability-appropriate reading materials though the Lexile website.
A special research study was conducted to statistically link GMRT comprehension test scores to the Lexile Framework. Scores on the GMRT comprehension test can be linked to Lexile measures as a result of the research described in the Lexile Conversions manual. This manual also provides tables for converting GMRT comprehension raw scores (total number correct) to Lexile measures. There is a separate table for each level and form of the comprehension test.
Lexile measures also are available through DataManager.
Author(s)
Walter H. MacGinite
Ruth K. MacGinitie
Katherine Maria
Lois G. Dreyer
Kay E. Hughes