Woodcock-Muñoz Language Survey III

Individually-Administered


Woodcock-Muñoz Language Survey® (WMLS™ III)
Assess Language Dominance, Proficiency, and More
What happens when a student doesn't seem to grasp English material, despite displaying aptitude in other areas? Or, what if a student participating in EL studies is not progressing at the expected pace? For students in these situations—and many others—districts can turn to the Woodcock-Muñoz Language Survey® III (WMLS™ III), the trusted measure of language proficiency.
Designed for use with examinees as young as 3 and as old as 22, WMLS III provides quick and reliable assessment in the areas of listening, speaking, reading, and writing to determine language dominance and proficiency. WMLS III also offers examiners insight into whether a student's learning deficits are solely language related. Plus, WMLS III is the first test in the Woodcock assessment family to offer a Digital Test Record!
WMLS III features:
All-new norms, item content, and artwork
Support for assessing and monitoring language proficiency in dual language programs
New test organization that helps examiners efficiently evaluate and monitor basic and applied language skills
New checklists to better illustrate the impact of language background and academic language exposure on test results
Two English forms and one Spanish form to help determine language proficiency, eligibility for EL services, and readiness for English-only instruction
Testing Ages
WMLS III may be used with examinees aged 3 – 22.
Time to Test
A typical administration requires 55 minutes for the entire test; 25 minutes for screening.
Looking to streamline your WMLS III administration, scoring, and reporting?
The WMLS III Digital Test Record (DTR) is your key to easy administration, real-time scoring, and immediate reporting. Available as an alternative purchase to paper test records, the DTR allows for:
Immediate input of item-level data during administration with automatic score generation
Guided administration with basal and ceiling rules
Real-time, in-the-moment scores
Guided administration ensures the correct establishment of basal and ceiling rules, increases the fidelity of the assessment, and ensures accurate administration across all examiners.
The DTR becomes available in the WJ IV Online Scoring and Reporting system following purchase. To use the feature, simply choose to add a Digital Test Record while adding examinees.
The Test Session Overview Page
This page houses all your identifying information, as well as your Language Background and Test Session Observations. Throughout administration, you can return to this page to see test progress and scores. Also, because not all testing needs to be completed during a single session, you can check this page to determine what testing has already been completed or how the examinee previously performed.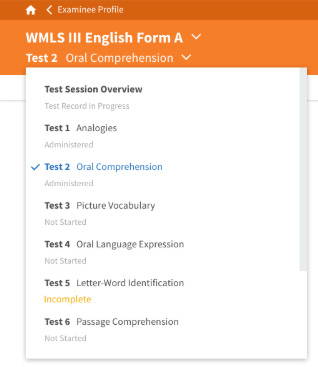 You can navigate throughout the Digital Test Record by test.
All information entered is saved immediately, so loss of internet connection during administration is never an issue with your test data. For each test, the scoring instructions are available, so you don't have to toggle between the test book and the DTR. You choose your Suggested Starting Point, and the DTR guides you to the first item. Once you start administration, the DTR guides you through establishing a basal and ceiling. If a basal is not established, you will be guided back to where you should start testing. When a basal is obtained, the DTR will alert you.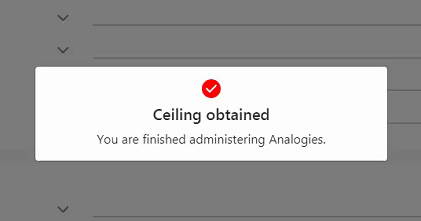 Recording responses is easy.
Simply click 1 or 0, or scroll to see additional response scores. For Test 2, Oral Comprehension, the audio files for the test are built right into each item. When ready to administer, simply click the speaker icon, and the audio for that item will play. You will be notified immediately once ceiling is reached, allowing you to move expeditiously on to the next test, test the limits, or move to an entirely different subtest. If you skip an item, either by mistake or because you were not sure how to score it, the DTR will alert you to confirm that you meant to do so. Once administration is complete, submit your test record as usual. Test scores will be available immediately in the scoring platform.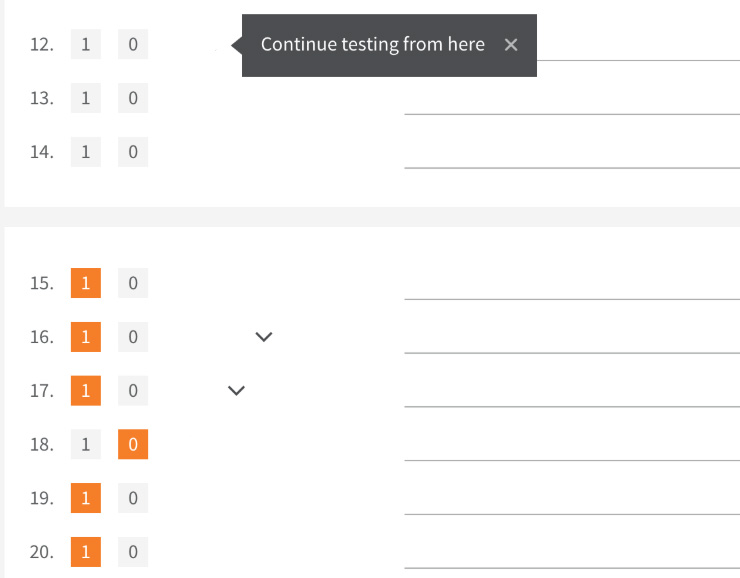 ---
WMLS III Teacher and Parent Intervention System

The WMLS III Teacher and Parent Intervention System (TPIS) is a subscription-based enhancement to the Riverside Score system. It offers the following in both English and Spanish outputs:
Classroom intervention and diagnostic statements based on test results
Book recommendations based on tested ability
EL program recommendations and second-language scaffolding
Leveled reader recommendations to provide "just right" support with specific references to BOLDPRINT®
titles and Rigby® PM Books
Home-based activities to promote family participation in language instruction
Plus, for disctricts with select Houghton Mifflin Harcourt™ EL materials, the Teacher and Parent Intervention System provides curriculum recommendations that include second language scaffolding.
Click here to view a sample TPIS Teacher Report, and click here to view a sample TPIS Parent Report.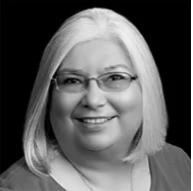 Dr. Criselda Guajardo Alvarado
Dr. Alvarado devoted her professional life to education and assessment. She began her career as a bilingual education teacherand also worked as an educational diagnostician and special education supervisor at the elementary, middle, and high school levels and in a juvenile justice charter school. Dr. Alvarado received her BS with teaching certificates in elementary education, psychology, bilingual education, and mathematics, and her MEd as an educational diagnostician from the University of Texas Rio Grande Valley. She received her EdD in Curriculum and Instruction with a specialization in bilingual education from the University of Houston. From 1991 to 2015, Dr. Alvarado was the director of bilingual studies at Measurement Learning Consultants, where she worked on several English and Spanish standardization projects. Dr. Alvarado passed away unexpectedly in 2017, but she continues to touch and improve lives through her profound legacy and the assessments she's helped develop.
Dr. Richard W. Woodcock
Dr. Woodcock has an extensive background in education and psychology. He has held a variety of positions, including elementary school teacher, school psychologist, director of special education, university professor, and editor of a test publishing company. He earned his doctorate from the University of Oregon with a dual major in statistics and psycho-education, and he completed a post-doctoral fellowship in neuropsychology at Tufts University School of Medicine. He has published more than 135 professional books and articles. Since 1957 Dr. Woodcock has held positions and appointments at Western Oregon University, the University of Northern Colorado, George Peabody College for Teachers, the University of Arizona, the University of Southern California, the University of Virginia, and Vanderbilt University. He is currently serving as a research professor in the Department of Psychology and Philosophy at Texas Woman's University. Dr. Woodcock is a Fellow of the American Psychological Association and the American Academy of School Psychology and a Diplomate of the American Board of Professional Psychology. In 2013 the Texas Statewide Evaluation Project Conference honored Dr. Woodcock with its first Lifetime Achievement Award.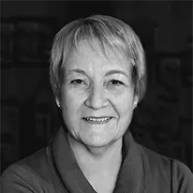 Mary L. Ruef
Ms. Ruef's career in test development started in 1984 when she began working with Dr. Richard Woodcock at Measurement Learning Consultants. She worked with Dr. Woodcock for 30 years, during which time she performed testing, managed various portions of norming projects, served as an associate director of the company, and coauthored both the Woodcock-Muñoz Language Survey–Revised and the Bilingual Verbal Ability Tests. She also worked on the following other batteries: Woodcock-Johnson Psycho-Educational Battery–Revised (WJ-R®), Batería Woodcock-Muñoz–Revisada, Woodcock-Johnson®III (WJ III®), Batería III Woodcock-Muñoz®, and Woodcock-Johnson IV (WJ IV™). In 1998 Ms. Ruef became the editor for development and publication of the Woodcock-Johnson International Edition in Latvia, Czech Republic, Hungary, and Slovakia. She received a BA from Western Oregon University and taught in the Salem, Oregon, school district.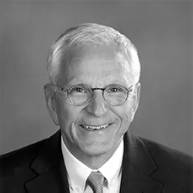 Dr. Fredrick Schrank
Dr. Schrank is a licensed psychologist (Washington) and a board-certified specialist in school psychology by the American Board of Professional Psychology (ABPP). He worked in the Wisconsin public schools while earning an EdS in Educational Psychology from the University of Tennessee–Knoxville. He subsequently earned a PhD from the University of Wisconsin–Madison. Dr. Schrank taught at Truman State University (Missouri) and the University of Puget Sound (Washington) before devoting his career almost exclusively to the development and publication of the Woodcock-Johnson family of tests. He has been an oral examiner for the American Board of School Psychology (ABSP) and president of the American Academy of School Psychology (AASP). In 2018 Dr. Schrank was named a J. William Fulbright Specialist by the U.S. Department of State, Bureau of Educational and Cultural Affairs. He is hosted by the Department of Educational and Counselling Psychology of McGill University in Montreal, Quebec. Dr. Schrank is the senior author of theWoodcock-Johnson IV (WJ IV®) Tests of Cognitive Abilities, Woodcock-Johnson IV Tests of Oral Language, Woodcock-Johnson IV Tests of Achievement, Woodcock-Johnson IV Tests of Early Cognitive and Academic Development, WJ IV Interpretation and Instructional Interventions Program, and Essentials of WJ IV Cognitive Abilities Assessment.